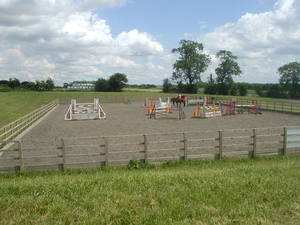 The Cross Country Course is set in rollng Leicestershire countryside with a track of over 4 miles, more than 30 sets of obstacles with so many options you can easily spend all morning at the water complex alone!
On behalf of site owner Peter Walker and eventing daughter Louise, Landyke obtained planning permission for the course in 2001, overcoming Highways Authority and Melton Borough Council objections. We gave initial advice as to the layout of the course but left the final design and build of the obstacles to the specialist British Eventing course builder Stuart Buntine.
To complete the facilities for this farm diversification enterprise, planning permission has now also been obtained for a large 60 x 30 metre manege, 20 stable barn, horse walker and mobile home accommodation.
This young equestrian enterprise is now growing, and, if the Walkers wish, take over from the farm as the major land use and income stream.
To view the course and see all the facilities at Aylesford Equine, follow the link www.aylesfordequine.co.uk